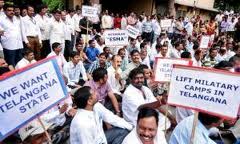 The Telangana agitation has spawned a variety of protest forms in a bid to sustain the tempo and achieve the stated goal. While some of them are welcome additions to the exercise of democratic rights in support of demands, a few others threaten to disrupt the functioning of society for all times to come.
I am not even talking about 'general strike' and the various road blockades resorted to by activists supporting the separate state cause. I am referring to a tendency – a dangerous one at that – to appropriate every space, even when it is inappropriate, for their cause to the discomfiture of all the others.
The other day, Hyderabad 10K run was organized in the
city
. The
Times of India
report headlined the report, "T protestor disrupt 10K run".
It goes on to say, "About 400 students from Osmania
University
Telangana protest
and other
educational
institutions from the city joined the event wearing black badges and shouted pro-Telangana
slogans
in support of separate statehood demand. The students' protest was over "police repression" against them.
The run that kicked off from People's Plaza was disrupted
for about 20 minutes
by the sloganeering students who were later apprehended by police."
Now the idea to
participate
in the run
to register
their protest is novel. What those who are passionate about their demand could have done is to wear T-shirts with their slogans and participate along with the others. They could have attracted the attention of others and served their cause, instead of being considered as 'nuisance' by the others.
Imagine
every other every group with its legitimate and not so legitimate demands henceforth starting to disrupt every occasion and every platform for 'justice'. An MRPS or a teachers' organization can do the same thing and indiscriminately indulge in disruptions for their cause.
A host of local groups have been agitating in north coastal Andhra over various proposed projects that they fear would uproot them from their land and livelihood. Their protests have never been disruptive and always democratic. Such reasoned acts of protest actually let people empathize with the cause.
Of course, it is on the governments to be sensitive to such democratic expressions of protest and be responsive for finding a way out; lest, every group should probably resort to the kind of
gimmicks
that I mentioned above. Such acts only cater to
newspaper headlines
, and nothing else.
November 29, 2011